Enter your info and receive a FREE comprehensive report about your property and your Atlanta neighborhood!
Vacancy rate and average days on the market
How much your neighbors are charging for rent
Rental price trends In your neighborhood & county
Stress Free Atlanta Property Management
Let us manage your Atlanta rental property
Owning a residential rental property can be a lucrative investment, but it also carries with it its share of headaches and worries. Finding a skilled Atlanta residential property manager can save you a lot of time and money.
With our full service Atlanta property management, you get much more than just one over-worked property manager. You get a full team of skilled professionals with the expertise to provide you with the highest level of service and the maximum return on your investment.
How much rent can you get for your investment?
Get Optimized Rental Value for Your Property

Gain Crucial Insight Into Current Market Conditions

Determine Your Cashflow from Monthly Rental Value
Explore our services below, or if you are ready to get started, complete the form and we we will be in touch.
INQUIRE ABOUT OUR MANAGEMENT SERVICES
What We Do As Your Atlanta Property Manager
We do more than just collect rent
Property Marketing
We work to quickly find the right tenant for your home and use our proven marketing methods to attract high-quality applicants.
TENANT SCREENING
Every application undergoes careful screening, with background and financial checks designed to keep your interests protected.
RENT COLLECTION
Getting your rent payment on time shouldn't be a guessing game. We handle all billing and get your money to you on time.
PROPERTY MAINTENANCE
We know how to keep your property in optimal condition. We handle all maintenance requests and coordinate repairs for you.
FINANCIAL REPORTING
We provide full visibility and monthly reports for your property. Access your account any time through the 24/7 Online Owner Portal.
PROPERTY INSPECTIONS
Our regular in-person inspections allow us to identify potential problems in advance & keep your home healthy.
EVICTIONS
If a tenant relationship ever takes a turn for the worse, we can process the eviction for you & minimize its impact on your bottom line.
LEGAL COMPLIANCE
We monitor the laws and insurance regulations that impact your home & work to ensure that your property is legally compliant.
HOME WATCH
For owners of second homes who want the security of knowing their home is being watched and cared for while they are away.
WE MANAGE ALL TYPES OF PROPERTIES IN THE Atlanta AREA
Single Family Property Management
Our Atlanta area property managers will safeguard your property, manage your tenants, and protect your investment, all without you having to lift a finger.
Multi-Family Property Management
Our Atlanta apartment property management services include all necessary maintenance, tenant screening and management, and regular property inspections.
SEE WHY OUR CLIENTS COME BACK TIME & AGAIN
Reputation Reviews
About Atlanta
Atlanta was founded in 1837 as Marthasville at the end of the Western & Atlantic railroad line. It was officially incorporated as Atlanta in 1847 and became the capital of Georgia in 1868. At that time, the city consisted of little more than 30 stores, a few hotels and schools, one church, and approximately 2,500 residents. The area also has a rich history of conflict during the Civil War. Three years after the state of Georgia became the fourth state to leave the union in 1861, Atlanta surrendered to Union Troops in 1864 after numerous battles around the city. Two months later, General Sherman ordered the city burned and only 400 buildings survived. Several other key moments in Atlanta's deep history:
In 1886, Coca-Cola was served for the first time at Jacobs Pharmacy.
In 1974, Hank Aaron, of the Atlanta Braves, surpassed Babe Ruth's home run record by hitting his 715th home run against the Los Angeles Dodgers in front of the largest crowd in Braves history. Aaron went on to hit 755 career home runs, a record which stood until 2007.
In 1996, Atlanta hosted the Summer Olympics.
Fast forward to present day, and Atlanta has grown to become the undisputed cultural and economic hub of the southeast United States. Atlanta is known for it's sultry weather, strong employment base, regionally-diverse population, and of course, it's traffic. The metro area also boasts the tenth largest economy in the nation, along with a swelling population of over six million. Sixteen Fortune 500 companies call Atlanta home, including Industry titans such as Home Depot, Coca Cola, Southern Company, Delta Airlines, RaceTrac Petroleum, Cox Enterprises, and UPS, to go along with recent additions NCR and PulteGroup. And who could forget the world's busiest passenger airport – Hartsfield-Jackson Atlanta International Airport. In terms of higher education, the metro area is home to a number of well-known colleges and universities: Emory University, Georgia Institute of Technology, Clark Atlanta University, Spelman College, Morehouse College, Kennesaw State University, Georgia State University, Oglethorpe University, and Agnes Scott College.
Atlanta is also bustling with numerous attractions:
MORE +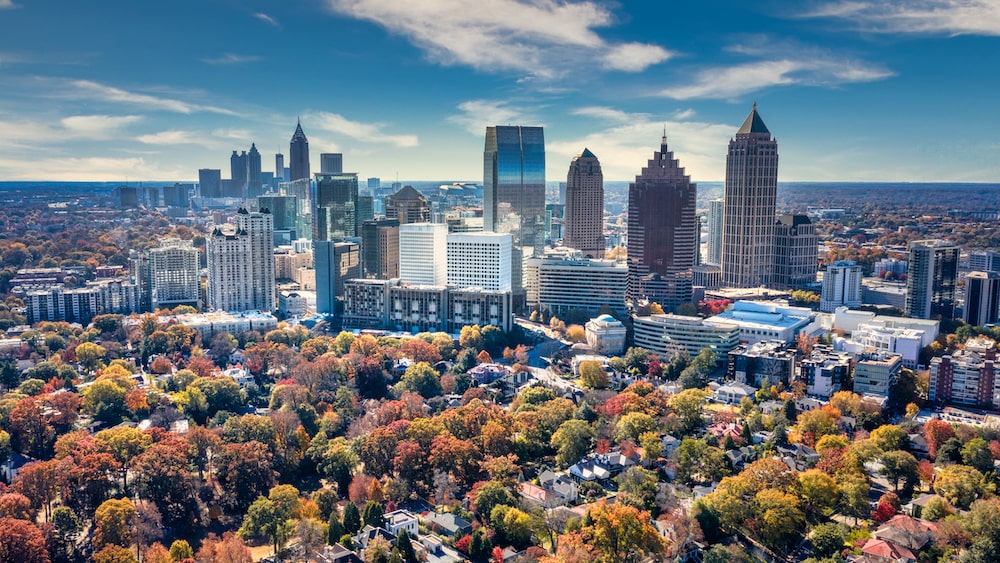 Areas Serviced
Dunwoody
Duluth
Woodstock
Decatur
East Cobb
Smyrna
Peachtree Corners
Need professional property management?
Trust a PMI Property Manager with your investment!