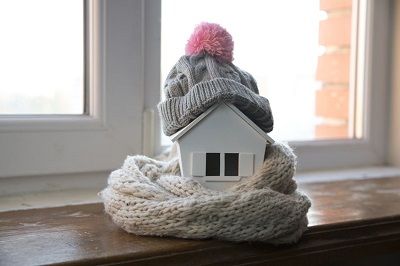 When winter rolls around do you dread the extra money and hassle that comes with keeping your tenants warm and cozy? Here are three important things that you can do to help your tenants stay happy this winter that will, as a bonus, help to control your heating bill.
1. Make sure your furnace is properly maintained
No one wants to be in a situation where they have no heat in their home or have to deal with a heating system that doesn't work properly. Maintenance is critical to providing a top-notch tenant experience in the winter and for the longevity of your furnace. Scheduling a professional furnace checkup once a year and changing your filter can prevent a host of issues. Replacing filters regularly can help keep your furnace in top shape for longer. Disposable filters generally need to be changed every one to three months, depending on the type of furnace you have. It's also a good idea to check carbon monoxide detectors and smoke alarms at the same time.
The National Fire Protection Association recommends smoke alarms be installed inside each bedroom, outside each sleeping area and on every level of the home, including the basement. Make sure your home has CO detectors on each floor and make sure that they are replaced every five years. (Check each alarm's manufacture date so you know when it's time for a replacement.)
At PMI Perimeter, we know how to keep your property in optimal condition. We can handle all maintenance requests and coordinate all needed repairs for you — including changing batteries in the smoke detectors. And if something does go wrong, we provide responsive 24/7 maintenance support for tenants and owners. Your tenants can rest assured that they have an after-hours emergency line for emergencies that need immediate service.
We also know that finding top-notch contractors can be challenging. Our clients don't have to worry about finding the right people to handle maintenance and repair issues. We offer high-quality services at reasonable rates with its nationwide network of licensed, bonded and insured tradesmen and suppliers.
2. Insulate or replace windows
As much as we love big widows where lots of natural light can shine through, it is important to know that windows act as large weak spots in the insulation of your home. The glass in your windows can get incredibly cold with the chilly temperature outside and make it hard to keep the areas around them warm. If your home has older windows, you may want to consider investing in new windows. Aside from being more aesthetically pleasing, new windows can help you dramatically reduce your utility bills.
An easy and immediate fix to drafty windows, though, can be adding or replacing the curtains on a window. Blackout curtains aren't just good for keeping the sun out of a room— they're also great insulators. Blackout curtains are great because your tenants can open the curtains and let the sunshine through and warm their home, and then when night comes they can shut the curtains and keep that daytime heat in for longer.
3. Seal air leaks around windows and doors using caulk or weather stripping
Proper maintenance of your rental property is important year-round, but especially in the winter. And a lot of preventive steps can be taken that don't cost a lot of money but can prevent major headaches down the line. Caulking and weather stripping is an example. Properly sealing your home can help prevent water leaks and lower utility bills.
Likewise, keeping gutters clear can help prevent major water damage to the exterior and interior of your home. Don't neglect the preventive maintenance that can help you maximize your real estate investment.
For more tips like these for landlords that will help keep you and your tenants happy, check out our property management services at PMI Perimeter. We proudly serve the areas of Atlanta, Marietta, Sandy Springs, Alpharetta, Brookhaven, Buckhead, Roswell, Kennesaw, Johns Creek, Smyrna, Dunwoody, Duluth, Woodstock, Decatur, East Cobb and Peachtree Corners.