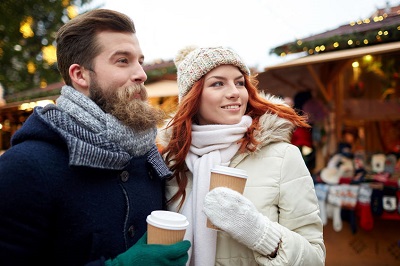 As the temperatures drop in the Atlanta area and the long, chilly nights are on the horizon, local singles are aching to find the perfect someone to hold hands with and snuggle (hopefully in front of a roaring fire!)
As things cool down, it can seem impossible to plan an impressive first date with a potential special someone! Never fear, we like to believe that winter is advantageous in the search for someone to bring home to the folks. Sometimes, the cold is just the perfect environment for the first spark of love!
To help you on your journey, below are three local spots perfect for a romantic winter rendezvous.
1. Alliance Theatre
Live theatre has been a date activity as long as it's existed. Let's face it, first dates are usually awkward. How close do you sit, what do you wear, and WHAT on earth do you talk about? The perfect solution to this ever-pressing dilemma is to take a date to the theatre. There is undeniable electricity that comes with sitting next to a new potential romance at the theatre, especially when the theatre is a warm haven away from icy winter winds. You're close to each other, it's dark, maybe you'll even hold hands!? Not to mention, the problem of awkward first-date conversation is solved because for the first couple of hours of knowing each other, you don't talk! Then after the performance, you have something in common to talk about.
Watching a live performance is a magical experience that is perfected when shared with someone else. If you're looking for a holiday-oriented performance, Alliance Theatre is hosting A Christmas Carol through Dec. 24. Watch this new adaptation of Ebenezer Scrooge's journey to redemption, told with beautiful live music. It's a fun way to spend a wintery evening!
Another great option: Club Hertz Live, a special concert series featuring a different performer nightly, through Dec. 24. The performances are held in a relaxed, lounge-like atmosphere.
2. Ponce City Market
There's a lot to do (and eat) at the Ponce City Market. Start the night with a great lunch or dinner. Then bundle up (and maybe cuddle up?) and enjoy Fire Pits Roasting and Toasting! Gather around a toasty fire pod and enjoy s'mores. Fire pods can be booked by the hour, and s'more supplies are complimentary. The open-air fire pods are available on Saturdays and Sundays through Dec. 19.
Another fun activity for a date: Ice skating. What will you try? Whether you're getting together with that special someone during the day or in the evening, the Ponce City Market is a great destination. For all holiday events and activities at the market, go to this link.
3. A Capella Books
A Cappella Books is a well-loved part of the Atlanta community and has been since its opening three decades ago. The bookstore has a cozy, nostalgic feeling and carries a wide selection of books. The small but comfortable environment of Fountain Bookstore is the perfect place to get away from the cold and get to know a potential partner through literature. You and your date could purchase the same book and hold a mini book club as your second date, or you and your date could get to know each other by purchasing each other's favorite book. The bookseller hosts a number of events each month, including some featuring well-known authors. Exploring the world of books and discovering someone else's tastes in books can be a great way to get to know another person.
With how fast-paced everyone's lives are becoming, it's important to slow down and take in moments that someday could become special memories. Reading and looking at books causes you to slow down and take in your surroundings, and that is exactly what your attitude should be on a date, too. Here's a list of other great book stores to explore as well.
Winter is the perfect environment to fall in love because the cold leads you to find opportunities to get warm, which leads you to very special cozy places. Take a new romance or an existing one on a sweet winter date in the Atlanta area. The city is filled with great venues and events designed for all interests and tastes — here are 50 more ways to explore Atlanta and enjoy a fabulous day or night out.
We hope you have a wonderful December and holiday season. And remember, at PMI Perimeter, we're here to help you with both residential and commercial property management services and help you maximize your investment(s).