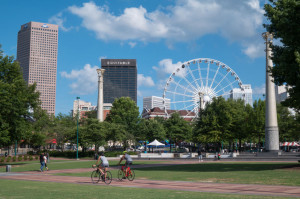 Atlanta is a great choice if you're looking for a place to invest your money and watch it grow. With the city's thriving real estate market, it has become one of the best places to purchase a residential investment property. Atlanta offers a huge range of properties that can be bought as investments. Whether you're looking for a single-family home, condo, or apartment complex, there are plenty of options to suit your budget and needs. In this article, we will look at the benefits of investing in a residential investment property in Atlanta and how to make sure your money is well spent. So read on to learn more about investing in one of America's fastest-growing cities!
The rise of real estate prices in Atlanta
In recent years, Atlanta has seen a rise in both commercial and residential real estate prices. This trend is expected to continue as the city grows and attracts new businesses and residents.
For those looking to invest in Atlanta real estate, now is a great time to do so. The city offers a variety of properties that are perfect for both personal and investment purposes. Whether you're looking for a single-family home, condo, or even land to build on, you'll be able to find it in Atlanta.
Investing in Atlanta real estate is a smart move that will likely pay off in the long run. If you're thinking about making an investment, be sure to consult with a qualified professional to help you find the right property and get the best return on your investment.
Why now is the time to invest in Atlanta
If you're looking for a solid investment that will offer reliable returns, then look no further than Atlanta! The city is booming with new development and opportunity, making now the perfect time to invest in residential property. Here's why:
1. The economy is strong and growing. Thanks to a diverse range of industries, Atlanta is one of the most resilient cities in the US. It's also home to many Fortune 500 companies, which means there's a consistent demand for housing.
2. The population is constantly increasing. Atlanta is attracting more and more people every year, thanks to its strong economy and quality of life. This population growth creates an increased demand for housing, which drives up prices and makes investing in residential property a wise choice.
3. There's a wide range of options available. Whether you're looking for a fixer-upper or brand-new construction, you'll be able to find it in Atlanta. And with so many neighborhoods to choose from, you're sure to find the perfect fit for your investment goals.
So don't wait any longer – now is the time to invest in Atlanta!
How to get started
If you're looking to invest in a residential property in Atlanta, you'll want to make sure that you get the most out of your investment. Here are some tips on how to get started:
1. Do your research. Before you start looking at properties, it's important to do your research and understand the Atlanta real estate market. This will help you identify neighborhoods that are likely to appreciate in value, as well as properties that fit your budget and investment goals.
2. Get pre-approved for financing. It's a good idea to get pre-approved for financing before you start shopping for a property. This will give you a better idea of what you can afford and help you move quickly when you find the right property.
3. Be prepared to make an offer quickly. In a competitive market like Atlanta, properties can move fast. So, once you've found a property that meets your criteria, be prepared to make an offer quickly.
4. Have realistic expectations. It's important to remember that real estate investing is not a get-rich-quick scheme. It takes time and effort to find the right property and maximize its potential value appreciation. But if you're patient and do your homework, investing in a residential property
Investing in residential real estate can be a great way to build wealth and create financial freedom. Atlanta has many excellent opportunities for investment, with its dynamic economy, low cost of living, good job market, and vibrant cultural scene. By doing your research and selecting the right property at the right price, you can make your money go further while securing a valuable asset that could potentially yield high returns over time. The possibilities are endless – so why not get started today?
Did you know at PMI Perimeter we offer premier residential property management services to property owners in Atlanta, Buckhead, Dunwoody, Peachtree Corners, Marietta, Roswell, Duluth, Sandy Springs, Kennesaw, Woodstock, Alpharetta, Johns Creek, Decatur, Brookhaven, Smyrna, and East Cobb? Visit our website to learn more!