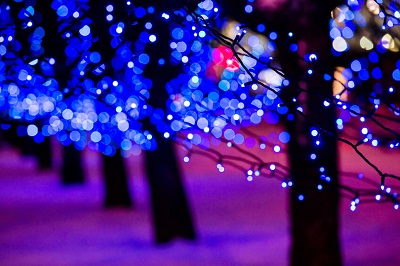 Ah, the holidays. You can enjoy delicious meals and treats with friends and family, sip hot chocolate by the fireplace and spend some quality time lounging around watching holiday movies. But sometimes, you just want to get out of the house for a while. Ready to bundle up and enjoy the crisp fall and winter air? Get a bit of exercise to work off some of that pumpkin pie? Here's a list of fun holiday adventures in the Atlanta area that combine the sights and sounds of the season and gets you out and about:
Go to the mountain
Stone Mountain Christmas has the "world's largest Christmas light show" and a host of things to do and see, all designed to get you into the holiday spirit.
See the holiday lights
One of our favorite things to do each year is to take a walk through the thousands of twinkling holiday bulbs at the Atlanta Botanical Garden's Garden Lights, Holiday Nights display. Last year, this incredible light display was once again voted "best holiday event in metro Atlanta" by readers of The Atlanta Journal-Constitution. Many popular days/times sold out early. With limited capacity and health and safety protocols in place this year, you'll want to buy your tickets as soon as possible. (They're available for purchase online only.) Running through Jan. 15, 2022, it is one outdoor adventure the whole family can enjoy — and you won't want to miss. Another great option: Illuminights at Zoo Atlanta. Experience the Zoo after dark and see 80 animal lanterns hand-made and hand-painted by Chinese artisans – some more than 20 feet tall! Here are a list of other light displays in Georgia to help get you into the holiday spirit.
This time of the year, holiday lights are going up pretty much everywhere. Bundle up and get ready for some family fun!
Find a letterbox
You're probably familiar with geocaching, a treasure hunting activity based on using a GPS to find small treasure boxes stashed throughout the world. But have you heard about letterboxing? Letterboxing is a fun activity that involves finding small, weatherproof boxes hidden in publicly accessible places (like parks). Clues are posted online on various websites. Unlike geocaching, you don't need a handheld GPS to find these little treasures — just your imagination! Nearly 200 letterboxes have been hidden throughout the Atlanta area and other cities nationwide. Just go to this link and search by city to find a list of boxes in your area and to print out a list of clues for each box. Once you've found a few boxes, try finding your own secret hiding place, creating a box of your own and creating a fun set of clues for other people to follow! For more information about letterboxing, check out this informative Q&A.
Stroll through a museum
Too cold or wet outside? No problem! Stroll through a museum! The Atlanta area has many. The Children's Museum of Atlanta is celebrating the different ways of celebrating the season, with special events for Hanukkah, Las Posadas, Christmas and Kwanzaa. For more information on these celebrations, running Dec. 5-26, go to this link. If you'd like a stroll through a whole lot of Christmas trees, head to the Georgia Festival of Trees.
Go on a scavenger hunt
An outdoor scavenger hunt could be just the thing to get the whole family to put down their phones and head outdoors into the crisp Atlanta air. You may think scavenger hunts are a spring or summertime activity, but going on a hunt in the winter months offers a different type of fun! Try a neighborhood scavenger hunt or any of the other fun ideas on this list. Here are some additional ideas. For more fun ideas, take a look at this link. Wrap up the hunt with a steaming cup of hot chocolate and some warm cookies and you have the perfect afternoon for the entire family.
Take a hike (or walk)
Whether it's in your neighborhood, in a local park or on a nearby trail in the Atlanta area, spending a bit of time in the outdoors in the winter months can do your mind and body good. You don't even have to pile in the car — you could see a lot of sights and sounds of the season during just a stroll through your neighborhood or a walk on one of these trails. If you have small children and the weather cooperates, going to a playground can help them burn off some of that energy and help everyone sleep better. Plus, you'll have fun, too!
Heading outside may be one of the last things that most people want to do this time of the year. But even moderate activity and a bit of sunlight can help release endorphins (those hormones that keep us happy) as well as help us feel better, more able to handle the stress of a busy holiday and sleep better, too. So get out there and get moving!
From all of us at PMI Perimeter, we wish you and your family a wonderful holiday season. And if you have any property management needs, we invite you to call us. We'll help you get optimized rental income out of your property, determine your cash flow from monthly rental value and gain critical insight into local real estate market conditions. We're here to serve you.