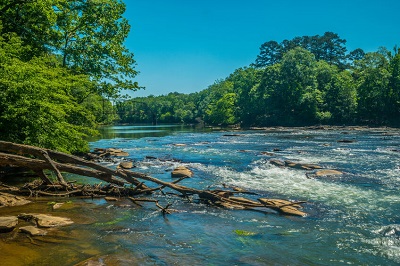 We typically think of spring as the time of new beginnings. But this time of year is also full of fresh starts and opportunities for adventure right where we live. As September's temperatures start to cool down from summer's heat, it's a great time to enjoy what's waiting right outside our doors! Take a look at just a few ways to stretch your legs, take a breather and enjoy what Sandy Springs has to offer.
Food That Rocks
The Sandy Springs Farmers Market is a staple from April thru November, open on Saturdays from 8:30 a.m. to noon at 1 Galambos Way until Nov. 20. Live events are also on the calendar this month, including the Food That Rocks event coming up from Sept. 23 – Sept. 25. You don't want to miss this sixth year of this Party With a Purpose event. This year, the event spotlights "frontline workers and restaurant superheroes who have given so much to our close-knit community throughout the pandemic." VIP tickets are available online for all four days of amazing food and music. Best of all, a portion of the cost for each ticket goes toward complimentary tickets for Sandy Springs' very own frontline workers and restaurant superheroes!
This is the playground of every child's dreams! It's a playable art park. Think of being in a museum surrounded by amazing sculptures and instead of having to stare at them from afar, being encouraged to climb and play. The best part? It's made for adults and kids alike! Your imagination will run wild at Abernathy. Pack a picnic lunch, load the family up in the car, and plug 70 Abernathy Road into the GPS!
Chattahoochee River National Recreation Area trails
We've got some amazing trails right where we live that are part of the 48-mile Chattahoochee River National Recreation Area (CRNRA). Island Ford, Powers Island and East Palisades all boast trails ranging in levels of difficulty and distance alongside the river. These trains offer a stunning view as the leaves change for the season. Don't forget to do a quick check-in with the National Parks Service (NPS) alerts page for the area before setting out on hikes or other outdoor adventures to make sure conditions and access are clear.
John Ripley Forbes Big Trees Forest Preserve
Ready to be awestruck by nature? The Big Trees Forest Preserve won't disappoint. The 30-acre Fulton County Tree, Plant and Wildlife Sanctuary, located 4 miles north of I-285, is an urban forest that was saved from possible decimation in the 1990s when the land was being considered for commercial purposes. The preserve's namesake is John Ripley Forbes, founder of the National Science for Youth Foundation and described by the Southeast Land Preservation Trust as "the Johnny Appleseed of our nation's natural science centers" having "linked America's natural environment to the education, health and well-being of its people. He has truly opened to all youth pathways to the natural world." There are four trails within the preserve less than a mile long each that can be navigated using a Nature Trail Guide that includes information for a 15-stop self-guided tour.
If art is your jam, mark your calendars for Artsapalooza, an outdoor art event slated for Sept 25-26 located at 6100 Lake Hammond Drive (between Mt. Vernon Highway and Hammond Drive). This family-friendly weekend is full of activities and attractions, featuring 150 artists, food vendors, live music, interactive art stations and more.
The Sandy Springs area is truly an amazing and beautiful place. Celebrate all it has to offer by taking some time to enjoy it! If you have any questions about the area – property management or otherwise – we'd love to help! Give us a call anytime: (678) 679-8308.