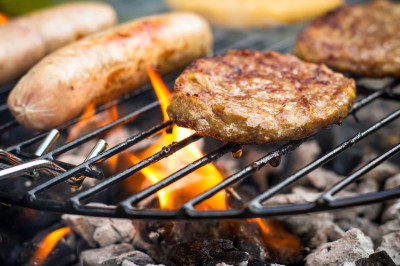 Rib sandwiches, juicy burgers, burnt ends, smoked turkey, pit-cooked chicken, beef brisket, and don't forget the wings. Do we have your attention yet? We hope we do because we'd hate for you to miss out on our list of the best barbecue spots here in Atlanta. Our list includes some of the hottest (and smokiest) barbecue joints here in Georgia's capital city and covers some of the spiciest, sauciest, and even sweetest highlights on each restaurant's mouth-watering menu. We don't wait to keep you from checking out this delicious list, so get ready to dive in and read over these amazing Atlanta barbecue spots and get to envisioning your next barbecue experience today!
Rodney Scott's Whole Hog Barbecue
When your food's in the hands of Rodney Scott who smoked his first whole hog at age 11, you know the food's about to be fire (pun intended). Cooking over live coal direct heat and keeping the dying tradition of whole hog barbecue alive, Rodney Scott's Whole Hog Barbecue is serving up smokey goodness in three different states. Not only is Rodney's dedicated to serving up mouth-watering food, the restaurant is also committed to educating others on the process and traditions of old-school whole hog style 'cue, and keeping the passion for all things high-quality barbecue with an attention to detail alive. It goes without saying, if you swing by Rodney Scott's Whole Hog Barbecue you most definitely need to try the whole hog (whether it's in sandwich or pork plate form,) and as far as dishes go, be sure to check out the hush puppies and honey butter, catfish king platter, collard greens, southern tender sandwiches, and Ella's banana pudding. Are you sold and ready for some smoked whole hog? Visit the Rodney Scott's Whole Hog Barbecue website to plan your next trip!
You can visit Rodney Scott's Whole Hog Barbecue in three different states (with more coming,) including one right here in Atlanta, Georgia at 668 Metropolitan Parkway SW.
Fox Bros BBQ
Starting out as a backyard barbecue, then becoming a full-scale barbecue catering operation, to a restaurant that's won awards like the "Runner-up Best Barbecue in Atlanta," Fox Bros BBQ is a well-loved, must eat Atlanta spot! The twin brothers that founded Fox Bros BBQ describe their barbecue style as "where we come from and where we are at," throwing down both Atlanta and Texas-style Southern-influenced dishes. Fox Bros BBQ gets so much love, their sauces are sold on the shelves of local Kroger stores, and Guy Fieri even stopped by to film an episode of Diners, Drive-Ins, and Dives! When you stop by you absolutely have to try their brisket, but don't shy away from their delicious jalapeño cheddar sausage, smoked chicken, spare ribs, chicken salad, pimento cheese, and spicy green beans! Ready for a helping of some Fox Bros BBQ? Visit their website to check out their menu today!
You can visit Fox Bros BBQ at one of their three locations in Atlanta at 1238 Dekalb Avenue NE, 203 Chattahoochee Row, and 120 Ottley Avenue.
Daddy D'z BBQ Joynt
All about comfort and traditional soul food, Daddy D'z BBQ Joynt is internationally recognized, and for good reason! Slow smoking the best cuts of meat over hickory and oak by hand, they've got the goods to keep every diner happy, full, and craving more. Their dishes are so delicious that renowned Chef Aarón Sánchez shouted out Daddy D'z sauce as his favorite on Food Network's "The Best I Ever Ate." On your visit, you have to try their rib house specialties, buffalo shrimp dinner, lamb ribs, hickory wings, fried green tomatoes, and the red velvet cheesecake. Daddy D's BBQ Joynt calling your name? Check out their website to prepare you for your next visit!
You can visit Daddy D'z BBQ Joynt at 264 Memorial Drive SE, Atlanta, Georgia 30312.
Does the Atlanta barbecue scene have you so excited you want to stay here longer than just a quick trip? Check out our website to see all the homes we at PMI Perimeter have available for rent!