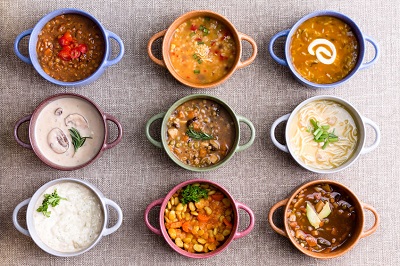 It's Fall, and that means soup is officially on the menu! There's nothing quite like coming indoors after being in the chilly October air and warming your hands around a fresh bowl of hot, steaming soup.
We've included some awesome recipes with fresh ingredients you can find at farmers markets in the metro Atlanta area. These markets below are just a sampling of the dozens of farmers markets that operate locally; here's the full list.
Freedom Farmers Market at the Carter Center. 8:30 a.m. to noon, Saturdays. Open year round.
Green Market at Piedmont Park. 9 a.m.- 1 p.m. Saturdays. Open through December.
Alpharetta Farmers Market. 8:30 a.m.-noon on Saturdays. Open through November.
Avondale Estates Farmers Market. 10 a.m. – 1 p.m. on Sundays. Open year round.
Brookhaven Farmers Market. 9 a.m. – noon on Saturdays. Open through November 20.
Castleberry Farmers Market. 4 p.m.-7 p.m. Mondays. Open through November 8.
Once you've loaded up on some fresh vegetables, it's time to try one of these great soups!
Hearty Vegetable Soup
Mmmmm! This soup is easy to make and so delicious. It's an awesome way to use fresh vegetables brimming with flavor. This recipe is also easily adaptable based on your preferences. Add in some beef or chicken or vary the vegetables and you can make it your own. It's a great way to enjoy a nutrient-rich and delicious warm meal on a cold day or night.
The Ultimate Chicken Noodle Soup
What soup recipe collection is complete without chicken noodle? Get out a 6-quart stock pot and you'll have this soup simmering in a flash! Cooking your chicken (thighs or breasts) in broth is a way to add even more flavor to this recipe. You can also stir in one tablespoon of chicken bouillon granules. It's a great dinner for cold nights and an incredible way to provide someone who's sick with a boost. This soup is loaded with protein and vegetables and can help provide much-needed hydration when you're under the weather.
Instant Pot French Onion Soup
Bust out the onions (any onions will do, according to The Pioneer Woman) and the Instant Pot for this flavorful soup. You'll need dry white wine to create the thickener and 8 oz. of gruyere or Swiss cheese to sprinkle evenly across the top of the soup just before serving. This isn't a set-it-and-forget-it type of recipe, but it definitely speeds up the cooking time with a total of 50 minutes from start to finish. Perfect for an easy weeknight meal.
Roasted Cauliflower Soup
If you're looking for a creamy soup option, give this one a go. The biggest surprise? This soup looks super creamy, but neither cream nor cheese is an ingredient. The texture comes from the butter. [Special diet note! It's a gluten-free recipe as-is, but the chef included notes for a vegan/dairy free take on the existing recipe!] Sautéed onions and hints of nutmeg and lemon pair perfectly with the flavor of the oven roasted cauliflower. You'll need a blender for this one to get the right consistency. Don't forget to get a topping for the soup. Green onions, parsley or chives are the chef's recommendations.
Pesto Chicken Minestrone
If you're a fan of 1) pesto and/or 2) a hearty soup, this recipe should be on your list to try next. You'll start by roasting garlic in the oven to produce a paste for later on in the recipe. Meantime, you'll cook the chicken in a Dutch oven or large pot with a parmesan rind (talk about flavorful!), shred it up, add in kidney beans, carrots, crushed red pepper, mashed garlic, kale and tortellini. Steam for a bit until kale and pasta are cooked, and voila! Dinner is served.
Feeling hungry yet? Give one of these recipes a try! Feel free to pass it on. And, as always, if you have any questions about the area – property management or otherwise – we'd love to help!