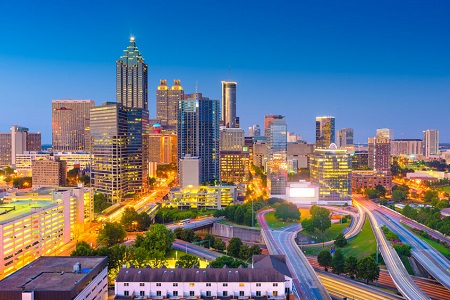 Here in Atlanta, we're so lucky around this romantic time of year, because not all cities have as many options as Atlanta when it comes to Valentine's Day happenings. It's so fun to explore different ways to spend time with your significant other, or even with a new love interest.
However, Valentine's Day is the perfect time to indulge in some romantic fun. Whether it's a bouquet of beautiful flowers or a lovely dinner, now is the time to impress. If you've got your eye on someone special this Valentine's Day, here are three of Atlanta's best restaurants for a romantic evening out.
We can't think of anything more romantic this Valentine's Day than a fantastic Italian dinner with someone you love. There's something about the inherent nostalgia of a delicious Italian meal that can warm even the most un-romantic of hearts. Socrates, "We do not live to eat but eat to live to eat." And he was right, but we also love to eat and Italian food transmits that love like no other.
La Tavola is perfect for a romantic Valentine's Day evening for you and a romantic interest. La Tavola is known for its elegant décor, gourmet options and of course, the magical experience of dinner at an exquisite Italian eatery. La Tavola specializes in all the meals that you picture having for a "fancy dinner" style date night, like all kinds of pasta dishes, veal and a variety of indulgent wine options that you deserve to treat yourself or someone special with. La Tavola is a classic, cozy Italian trattoria located in Atlanta's famous Virginia Highland neighborhood featuring exposed brick, dark wood floors, rustic colors and an open exhibition kitchen. You and your Valentine's Day partner will simply love it.
Alright, if all that fancy evening at an Italian restaurant sounded a bit too romantic for your taste, we have so many more options, and The Optimist is a great one for our couples who want a country-modern space that's both intimate and lofty. If you are interested in someone new this Valentine's Day, we think that inviting them to a restaurant with soaring ceilings and a somewhat rustic décor might be just the trick. Let it set the tone for a cozy evening for two. It's one of the best restaurants for Valentine's Day in Atlanta for couples looking for something luxurious yet not too stuffy. La Tavola and The Optimist make for very different dates obviously, but something they share is the opportunity to indulge like you may not get to normally, which makes for a fun date. There are so many dishes to try at either one, we won't blame you for going overboard!
Why not drop in one more seafood-specific option? Steak and seafood both have that Valentine's Day romantic allure. So, why not stop on in to the Brown Bag Seafood Co.? Brown Bag serves some of the finest seafood dishes in Atlanta, specializing in lobster, scallops, shrimp and fish that are as fresh as can be. Brown Bag Seafood Co. is the best-of-both-worlds option between our first two options because they also serve breakfast and lunch, so you can have your Valentine's Day meal whenever it fits your schedule. However, one of the main reasons that Brown Bag Seafood Co. is an amazingly romantic place to eat is the atmosphere. Brown Bag Seafood Co. has a classic seafood house feel with wood accents, plenty of knicknacks strewn about and big smiles from everyone who works there.
We hope we helped give you some ideas for this Valentine's Day. Wherever you go and whatever you do, we hope you have a wonderful Valentine's Day!