Georgia's called "The Peach State" for a reason, with the best peaches coming primarily out of Tayler, Macon, Crawford, and Peach counties, it's one of the top four producers of the highest-quality peaches in the entire country. Known for their top-tier appearance, texture and sweet, juicy flavor, Georgia peaches are so special they became the state's official fruit in 1995!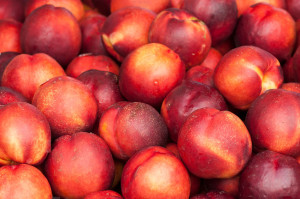 Georgia takes so much pride in their delectable peaches, you can find them pretty much anywhere, from their license plates to their quarters. With peak peach season coming up, beginning in mid-May, we wanted to share five Georgia peach-focused recipes so you can enjoy some of Georgia's best no matter where you are!
Before we dive into these recipes, we wanted to provide some quick and easy tips for picking the best possible peach so you can recreate these recipes with prime ingredients! Here are some simple peach purchasing tips:
Learn to pick fresh from the crop in person with Georgia Grown!
Don't squeeze! Some produce items require squeezing/knocking on them to determine ripeness, not peaches! Squeezing will damage and bruise the delicate fuzzy fruit.
Check for a gold or yellow undertone, that's what determines ripeness! The blush color is what indicates the variety of peach.
Take a sniff! Did you know peaches are a part of the rose family? That means that a proper peach should have a delicate, sweet fragrance.
Store them in the refrigerator to keep them nice and fresh, just be sure to consume them within a week.
Now that you know how to pick and store peaches, let's get into these recipes!
"Georgia Peach Homemade Ice Cream"
If you can't make it to Morelli's Gourmet Ice Cream, here's the next best thing! This delicious, sweet, Georgia-inspired ice cream dish is a great way to cool down on a hot summer day. Serve it up on its own or with a fresh slice of peach pie for the ultimate peach pairing.
This recipe calls for two and a half pounds of peeled, pitted and chopped peaches, white sugar, half-and-half cream, a can of sweet and condensed milk, a can of evaporated milk, vanilla extract and whole milk.
Peaches aren't always just for sweet dishes! This earthy, spicy dip has a bright bite to it unlike regular guacamole thanks to the addition of the juicy Georgia peach. Serve with chopped veggies or your favorite chip to add a little kick.
This recipe calls for a peeled, pitted and diced peach, three peeled and pitted avocados, lime juice, ancho chile powder, salt, red onion, seeded and minced jalapeños and cilantro.
Get a taste of the South with this delicious peach-intense pound cake that has a sweet sugary crunch! Serve up a slice with a tall glass of sweet tea and you'll be sure to please anyone's palette.
This recipe calls for two cups of pitted and chopped peaches, butter or margarine, white sugar, eggs, vanilla extract, all-purpose flour, baking powder and salt.
"Fresh Southern Peach Cobbler"
Did you know Georgia holds the record for the world's largest peach cobbler? Not only that, but they recreate it every year at the Georgia Peach Festival in Fort Valley! Free to taste, the festival's cobbler measures a whopping 11 feet by five feet and is eight inches deep. While this recipe yields only about four servings, it's still full of classic peachy Georgia deliciousness.
This recipe calls for eight peeled and pitted peaches sliced into thin wedges, white sugar, brown sugar, ground cinnamon, ground nutmeg, lemon juice, cornstarch, all-purpose flour, baking powder, salt and unsalted butter.
"Warm Grilled Peach and Kale Salad"
We've covered desserts, we've covered snacks, but what about the main course? Peaches make great entrees too, of course!
This recipe calls for two peaches cut into wedges, a red bell pepper, apple cider vinegar, yellow onion, vegetable oil, honey, grated ginger, garlic paste, kale leaves, goat cheese, salt and pepper.
Try your hand at making one, or even all, of these delicious Georgia-inspired recipes! Ever dreamed of living in the heart of the source of this country's most heavenly peaches? Check out the homes we here at PMI Perimeter have available for rent!